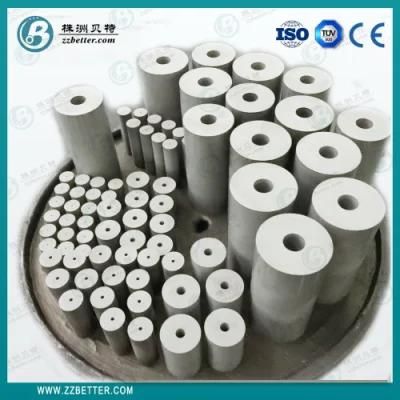 G5 G4 G55 Tungsten Carbide Heading Die Nibs Cemented Carbide Forging Die Carbide Die
Zhuzhou Better Tungsten Carbide Co., Ltd.
Technics:Tungsten Carbide Cold Heading Dies
Processing Method:Punching and Shearing Mould
Material:Tungsten Carbide
Application:Electronic, Hardware, Car, Commodity, Fastener Indusctry
Warranty:3 Months
Process Combination:Composite Mould
Field Can Be Used 1:Fastener Industry
Applciation 2:to Be Used as Mold to Make Nails
Applciation 1:to Be Used as Wear Parts
Key Words:Carbide Dies, Carbide Mold
Other Name:Tungsten Carbide Forging Dies
Product Name:G5 G4 G55 Tungsten Carbide Heading Die Nibs Cement
After-sales Service:24h Online Service
Parts Detection Method:Measurement of Three Axis NC
Milling Speed:Normal Speed
Mold Cavity Technology:CNC Milling
Driving Motor Type:Hybrid
Manufacturing Technology:Automation Technology
Model NO.:Tungsten carbide heading die nibs
Field Can Be Used 2:Auto Industry
Field Can Be Used 3:Where High Enduribity Requried
Transport Package:in Carton
Specification:customized
Trademark:UBT
Origin:China
Production Capacity:40tons,Month
Carbide punching and impacting dies
Grade
Performance
Performance&application recommended
Density
Hardness
Bend Strength
G/Cm3
HRA
N/mm2
YG11
14.4
88.5
2600
Forming or stamping dies for metal powders and nonmental powders.
YG15
14
87.5
2800
For fabricating drawing dies of steel tubesand rods under high
compressibility ratio;punching,stamping,forging tools under large stress.
YG20
13.5
85.5
3200
For fabricating of stamping dies for watch parts, spring plates of musical
instruments, battery jars,small sized steel balls,screws,screw caps.
YG16C
13.9
85.5
2900
Impact resistance, hot&forging dies etc.
YG18C
13.7
84.5
3100
Impact resistance forging dies,hot-press forging dies and rollers.
YG20C
13.5
83.5
3300
Dies for wear resistant or impact resistant application.
YG22C
13.3
83
3500
Nut forming dies and high impact resistance forging dies.
YG25C
13.1
82.5
3600
Stainless bolt header dies and rollers.
Also we can produce the carbide die as your required.